Wisconsin recall: Why stakes for Obama are lower than you think
(Read article summary)
If the Wisconsin recall effort fails against Gov. Scott Walker, Obama will be seen as one of the losers. The GOP will be energized to wrench Wisconsin from the Democrats, but November is five months away.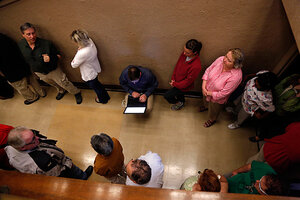 Jeffrey Phelps/AP
If Gov. Scott Walker (R) of Wisconsin survives Tuesday's recall election, President Obama will face repercussions – but not as much as some people might think.
The national news media are riveted by the contest, and that will magnify the result. A loss for Milwaukee Mayor Tom Barrett, the Democratic challenger, will be seen as a blow to Mr. Obama and his prospects for November. After all, Wisconsin is a battleground state. A win for Mayor Barrett, the underdog, will be seen as a significant boost to Obama, on the heels of bad economic news.
But the impact will fade fast, political observers say.
"It's June," says Larry Sabato, a political scientist at the University of Virginia, Charlottesville. "Yes, a victory by Walker will give Republicans a burst of energy, but will it last five months? No way."
Still, there will be one lasting implication: A Walker victory will force the Obama campaign to expend resources – time, money, volunteer effort – that it might otherwise not have had to. And those are resources that will be taken from campaign efforts in other states.
Obama won Wisconsin big in 2008 – by 14 percentage points. As of now, outside observers see Wisconsin as leaning Democratic, so while it's not a sure thing for Obama, it's a state he should win this November.
As of April, unemployment there was at 6.7 percent, well below the national average (8.1 percent in April). But with a Walker victory on Tuesday, Republicans will see an opening to go after Obama on friendly territory. For the president, Wisconsin is a must-win.
In another wrinkle, the Obama campaign released a map to its supporters Monday showing the presidential battleground states, and listed Wisconsin as a tossup – not leaning Democratic. That sends another signal to Republicans that Wisconsin is fertile territory for Mitt Romney, the presumptive GOP nominee.
---