Rush Limbaugh calls Obama 'Barack Hussein Kardashian.' What's he mean?
(Read article summary)
Rush Limbaugh and the Republican National Committee are in full 'Obama as out-of-touch celebrity' attack mode, but it's not clear that voters care more about that than jobs.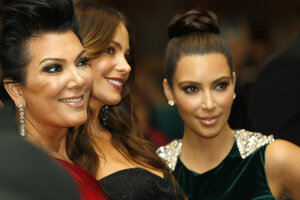 Haraz N. Ghanbari/AP/File
Is President Obama the first Kardashian president? The question comes up because radio provocateur Rush Limbaugh insists that is the case.
On his show Wednesday, Mr. Limbaugh talked about this week's Obama fundraising sweepstakes for dinner with the first couple, Vogue editor Anna Wintour, and actress Sarah Jessica Parker. He played the ads Ms. Wintour and Ms. Parker have cut to promote Obama's candidacy.
Then El Rushbo opined that this coziness with the New York celebritocracy shows how remote Obama is from ordinary people.
"He is [the] celebrity of the United States. He is not the president, and his whole team's out there pushing this. Barack Hussein Kardashian is what he has become," said Limbaugh.
Ouch. Limbaugh is not just calling Obama a celebrity here. He's calling him a lightweight. Can you picture Kim Kardashian reading a CBO report? Only if each reference to "deficit" were replaced with the word "shoes."
You'll notice that Limbaugh did not call him "Barack Clooney." That would have left a different impression. More ... suave.
Well, we've got a couple of opinions about this. First, it appears that Limbaugh has gotten whatever talking point memo the Republican National Committee sent out for the week. The RNC and Romney surrogates have been hitting the "out-of-touch-celebrity" theme hard. The RNC even produced its own Web ad on the subject.
---