Does Mitt Romney want to cut jobs for police, firefighters, and teachers?
(Read article summary)
A new ad from the Obama reelection campaign charges just that, while Mitt Romney calls the idea 'completely absurd.' They can't both be right.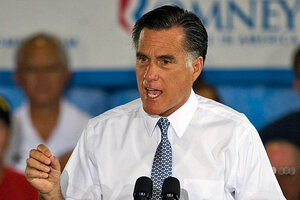 Steve Nesius/Reuters
Does Mitt Romney want to reduce the number of firefighters, police, and teachers in America? That's what the Obama reelection campaign is charging. They've got a new ad out that asserts local government jobs shrank dramatically in Massachusetts while Mr. Romney was governor, and that he plans similar reductions if he wins in November.
"Mitt Romney's economic plan? He wants to cut jobs for firefighters, police, and teachers," says the campaign spot.
Romney's not turning the other cheek on this one. On Tuesday, Romney said in a Fox News appearance that this charge is "completely absurd."
"The federal government doesn't pay for teachers, firefighters, or policeman," Romney told the hosts of Fox & Friends.
Hmmm. The two sides are pretty far apart on this question. Who is right here? What's the context?
We'd say this: A Romney statement this week did imply that he believes the nation needs fewer of these particular categories of public servants. But the comment might be better understood as a variation on the continuing Republican theme that government as a whole needs to be smaller and less intrusive in US life.
---