Is Ron Paul (maybe) getting ready to endorse Mitt Romney?
(Read article summary)
Ron Paul's campaign website recently has featured pieces arguing that the 'mere act of endorsing' another politician (Mitt Romney or anyone) is not an abdication of libertarian principles.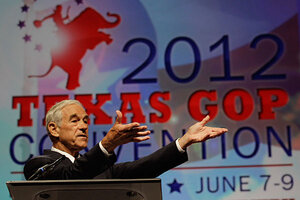 LM Otero/AP
Is it possible that Ron Paul is getting ready to endorse Mitt Romney? More specifically, is he beginning the delicate task of preparing his supporters for the day when such an endorsement might come?
We ask that question because Congressman Paul's campaign website in recent days has posted several pieces that discuss political endorsements in a somewhat defensive manner. In one, campaign blogger Jack Hunter talks about libertarian founding father Murray Rothbard's 1992 endorsement of President George H. W. Bush.
Rothbard's libertarian principles did not evaporate because of the "mere act of endorsing," writes Hunter.
As to the current Paul campaign, "any endorsements made or not made are done with our movement's goals and efforts within the GOP in mind, whether some understand this or not," according to Hunter.
In another post, Hunter reiterated that in the past Ron Paul voted for GOP Reps. John Boehner (Ohio), Dennis Hastert (Illinois), and Newt Gingrich (Georgia) for speaker of the House.
---