House panel cites Eric Holder for contempt. Will he go to jail?
(Read article summary)
There's a jail in the US Capitol, but it's not likely to hold Attorney General Holder anytime soon. The executive branch has many options to delay criminal proceedings, which require the Department of Justice to initiate.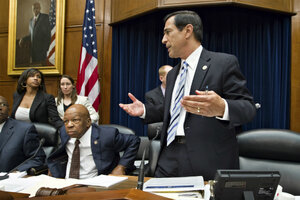 J. Scott Applewhite/AP
A House committee has voted to hold Attorney General Eric Holder in contempt of Congress for failing to turn over documents related to the failed "Fast and Furious" gun law enforcement operation. Does that mean he now risks going to jail unless he complies with the document request?
Technically speaking, it's possible he could end up in the slammer. But don't hold your breath – it almost certainly isn't going to happen. In the modern era, citing an administration official for contempt is often just a tactical maneuver in a larger Congress-White House dispute. It can put some added pressure on the administration, sure. But the executive branch has lots of ways to delay the resulting legal proceedings.
"Efforts to punish an executive branch official for non-compliance with a subpoena through criminal contempt will likely prove unavailing in many, if not most circumstances," concludes a newly issued Congressional Research Service report on Congress's contempt power.
Just ask Nancy Pelosi. She was Speaker of the House in 2007 when the chamber issued a contempt citation against ex-White House counsel Harriet Miers. A lawsuit aimed at compelling Ms. Miers to produce documents pertaining to the mass firing of US attorneys by the Bush White House lasted past the end of the Bush administration itself.
Eventually the House received much of the information it wanted, and it agreed to dismiss the Miers suit. But by then,19 months had gone by, and a Democrat had won the Oval Office.
"The change in administrations and the passage of time could be said to have diminished the [House's] ability to utilize the provided information to engage in effective oversight," says the CRS report.
As for Attorney General Holder, he is not yet in contempt of the House. Yes, on Wednesday the House Oversight and Government Reform Committee voted along party lines to hold Holder in contempt. That's a necessary step in the contempt procedure, but the citation can't take effect until it is approved by the full House. House Speaker John Boehner indicated Wednesday that's a step that may take place soon.
---