Rupert Murdoch says Mitt Romney needs 'more fight.' Is he right?
(Read article summary)
The News Corp. chairman appears to be going after the presidential candidate presumably most in tune with his conservative economic principles. What Rupert Murdoch's tweets may reveal about GOP comfort level with Mitt Romney.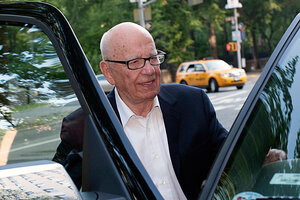 Keith Bedford/Reuters
Rupert Murdoch appears to believe that Mitt Romney needs more backbone. The News Corp. chairman tweeted over the weekend that the presumptive GOP nominee will have a tough time beating President Obama "unless he drops old friends from team and hires some real pros. Doubtful."
In response to a Twitter follower inquiry, Mr. Murdoch later implied that Mr. Romney has good qualities but needs "more fight."
"And Hispanics a surrender to O," Murdoch tweeted. "Cn not afford, hurts senate too."
What's going on here? Why is Murdoch – a conservative himself – going after the candidate who presumably is most in tune with conservative economic principles? And is he right that Romney needs to add a bit of brawl to his campaign if he's going to win the White House in November?
Well, the first thing to remember here is that Rupert Murdoch was not to the manor born. As a thorough piece by Ben Smith in BuzzFeed points out, Murdoch has prospered as a journalistic outsider, first in Britain and then in the United States, bringing tabloid swagger and a touch of populism to every news organ he owns. (Yes, that includes The Wall Street Journal.) In many ways that's the opposite of Mitt Romney's approach to his career, which has hinged on quiet, careful preparation, and building on his inherent insider advantages.
Murdoch gave money to John McCain in 2008, but before that he gave money to Hillary Rodham Clinton, as well. He's as much anti-establishment as partisan.
---