It's Malia Obama's birthday! Where's the party?
(Read article summary)
Today the eldest First Daughter turns 14. But it's not easy sharing a birthday with the United States.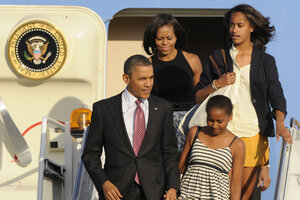 Paul Beaty/AP
Today, July fourth, is Malia Obama's birthday. Yes, we know – it's hard to believe that she's turning 14. It seems like only yesterday that she wasn't much taller than Bo the First Dog when they went on Rose Garden walks.
Well, maybe she was always a bit taller than that given that now she's almost the same height as her Dad. But the big question is party, as in, will she get a birthday celebration or not?
Probably. The White House isn't saying, since they don't comment on First Daughter activities. But Malia, sister Sasha, and mom and Dad spent a long weekend at Camp David, returning to 1600 Pennsylvania Avenue only this morning. It's quite possible the weekend featured personal festivities, including presents (iPad? Jewelry? Clothing as stylish as her mom's?).
The Obamas do believe in birthday parties, after all. Earlier this year Sasha, whose birthday is in June, got an 11th birthday fete at a Red Robin restaurant in suburban Virginia. Ten friends – plus Malia and Michelle Obama – participated.
Last June, Sasha, friends, and a passel of pink balloons had a celebration at Georgetown Cupcake, a well-known DC sugar emporium. You could tell something was up due to the presence of casually dressed Secret Service agents loitering in front of the store.
---