Obama speaks at troop naturalization ceremony. Can immigrants join US military?
(Read article summary)
The President welcomed 26 members of the armed forces after they took the naturalization oath. Service in the military can expedite the citizenship process.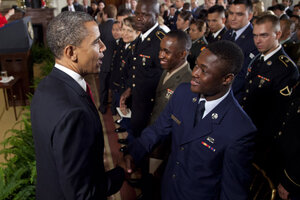 Evan Vucci/AP
President Obama on July fourth presided over a naturalization ceremony for 25 US service members. Among those sworn in as US citizens were Byron Oswaldo Acevedo, a Marine Lance Corporal from Guatemala; Terence Njikang Ekabe, An Air Force medical technician born in Cameroon; and Faye Ubad Ngirchomlei, an Army military police specialist from Palau.
"Some of you came here as children, brought by parents who dreamed of giving you the opportunities that they never had," said Obama in remarks to the assembled troops. "Others of you came as adults, finding your way through a new country and a new culture and a new language. All of you did something profound: You chose to serve."
Obama used the occasion to touch briefly on his recent move to stop deporting children brought to the US who grow up in the country and serve in the military or attend college. He urged passage of legislation codifying his action, as well as comprehensive immigration reform.
"Because the lesson of these 235 years is clear – immigration makes America stronger," he said.
Besides providing a forum for Obama to promote his immigration positions in general, the ceremony shed light on an aspect of the US military many in the country may not realize: you don't have to be a citizen to join.
---