Tax, schmax: Does it matter what Romney calls the health-care mandate?
(Read article summary)
Conservatives saw red when the presumptive GOP nominee denied that President Obama's health-care mandate amounted to a tax hike. Then, Mitt Romney got back in line.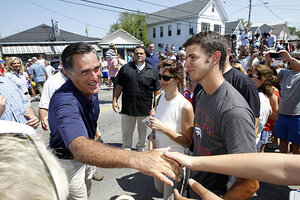 Charles Dharapak/AP
Under President Obama's health-care reforms, Americans will have to pay the federal government a fee if they don't have health insurance. Does it matter if that fee is called a "penalty" or a "tax"?
That question arises because Mitt Romney on Wednesday said that he agreed with the Supreme Court on this question, and that the fee in question is a "tax." This amounted to a change of position, because earlier in the week top Romney advisor Eric Fehrnstrom said the campaign viewed this payment as a penalty, fee, or fine, but not a tax.
"The majority of the court said it's a tax and therefore it is a tax," Mr. Romney told CBS News in an interview. "They have spoken. There's no way around that."
Why worry about this nomenclature? Because conservatives were furious that Romney was, in their view, throwing away a political gift handed to Republicans by high court justices.
Yes, a 5-to-4 majority found Obama's health mandate constitutional. But they did so by framing the mandate as a tax, which is a charged word. Who likes taxes? Nobody. What's the phrase Republicans have put in front of "Democrat" for years? "Tax-and-spend."
---