Why Democrats are hesitant to vote on Obama's tax plan
(Read article summary)
President Obama urged Congress immediately to pass his plan to extend some of the Bush tax cuts. But Senate Democrats are taking their time, hoping to score political points.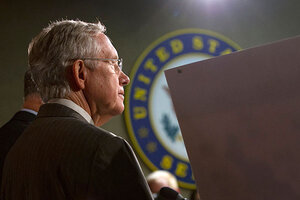 Jacquelyn Martin/AP
Lots of weird things happen in Congress in an election season. Case in point: For the next few weeks, Democrats swear they're going to relish a fight on taxes.
Taxes, of course, are typically GOP-controlled terrain, and that conversation typically goes something like this: We don't want any. But this year, Democrats think they have the winning hand, and so Senate Democratic leaders are twisting themselves into procedural pretzels to make sure the issue doesn't leave the public eye anytime soon.
Never mind that President Obama asked Congress last week immediately to pass a one-year extension of the Bush tax cuts up to $250,000 in household income. There's two weeks to go until Congress's summer break, and delaying a vote on the president's plan gives Democrats two weeks to pummel Republicans as middle-class-hating protectors of the fabulously wealthy and undertaxed.
"We're delighted to wait a few weeks and have the president go around the country and explain his tax proposal, our tax proposal, versus theirs," said Sen. Chuck Schumer (D) of New York. "Every day, the more people hear about the difference between the two, the more they side with ours."
This, however, has required some small amount of legislative gymnastics.
The Republicans, of course, knew exactly what the Democrats were up to and tried to trump them. They wanted to attach their Bush tax cut proposal – preserving the cuts for all income levels – and the president's to a bill aimed at cutting taxes for small businesses who hire new employees.
---