Bipartisan powers, activate! Can Congress's debt avengers be superheroes?
(Read article summary)
Once again, Washington's bipartisan, blue-ribbon, out-of-power elite gathers to urge Congress to break the gridlock and do the right thing on the nation's looming financial Armageddon.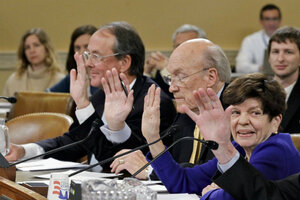 J. Scott Applewhite/AP/File
A bipartisan group calling itself the "Fix the Debt Campaign" kicked off its work Tuesday, and when these clear-eyed, pragmatic, bipartisan powers combine, they just might be the granddaddy of all Washington's seemingly never-ending stream of commissions, working groups, and "gangs" of all membership levels aimed at correcting the nation's treacherous financial trajectory.
But that name just doesn't have the right swing – how about The Debt Avengers? The (Fiscal) Justice League? Or, if it wasn't already sullied by congressional impotence, The Supercommittee?
Fix the Debt has arguably accumulated everybody who is anybody in Washington's wonky, "let's get real" set about federal debt and deficits. The effort is led by former Sen. Alan Simpson (R) of Wyoming and Democrat Erskine Bowles. Yes, the Simpson and Bowles of the Simpson-Bowles plan to reduce the nation's debt by $4 trillion over 10 years, which nearly every elected official in Washington says (when trying to sound reasonable and bipartisan) that they love in theory but won't touch otherwise. A vote for a plan along the lines of Simpson-Bowles in the House earlier this year turned up less than three dozen votes.
---