Why Obama's 'you didn't build that' line may bite back
(Read article summary)
The line may have been taken out of context. But it plays into the Romney campaign's main point of attack against the president: that he puts more faith in government than in private enterprise.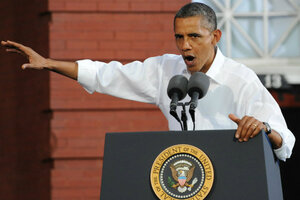 Don Petersen/AP
It's not quite up there with "the private sector is doing fine." Nevertheless, it will almost certainly be coming soon to an attack ad near you.
President Obama's statement, made at a campaign rally in Virginia last weekend, that "if you've got a business, you didn't build that. Somebody else made that happen" provided an opening for the Romney campaign to hit the president at what they are presenting as his weakest spot – his failure to understand business and the economy.
Mitt Romney ridiculed the line on the campaign trail Tuesday:
"To say that Steve Jobs didn't build Apple, that Henry Ford didn't build Ford Motor, that Papa John didn't build Papa John Pizza, that Ray Kroc didn't build McDonald's, that Bill Gates didn't build Microsoft is not just foolishness, it is insulting to every entrepreneur," Mr. Romney said.
Examined in context, it's pretty clear what the president was trying to say. As numerous media outlets have noted, it's really a flubbed version of the famous Elizabeth Warren "there is nobody in this country who got rich on his own" speech that went viral last fall. Like Ms. Warren, Obama was making the argument that "wealthy, successful Americans" should pay a higher tax rate because they didn't get to where they are without a lot of help from society. The line right before "you didn't build that" was about roads and bridges – making it pretty clear that it was infrastructure the president was referring to, not businesses.
---