Will Stephen Colbert mess up Mitt Romney's VP rollout?
(Read article summary)
Stephen Colbert, playing with the theory that Mitt Romney's team will be polishing the Wikipedia entry of his VP choice, urged viewers to recklessly edit entries of potential picks. Wikipedia was not amused.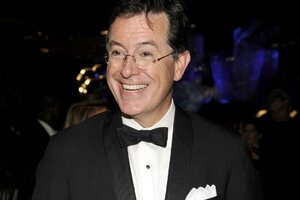 Chris Pizzello/AP/File
Will Stephen Colbert mess up Mitt Romney's vice presidential pick rollout?
We ask that question because the late night funnyman was indulging in a bit of his trademark participatory political comedy on the "Colbert Report" Tuesday night. He'd picked up on an idea first floated by Tech President blogger Micah Sifry: The Romney folks likely will clean up the Wikipedia page for their pick prior to his (or her) public unveiling. The day before John McCain announced Sarah Palin as the 2008 choice, her Wikipedia page was edited 68 times, Mr. Sifry noted.
Mr. Colbert turned that assertion on its head, noting that it meant the chances a person would be picked as VP increase with the number of times their Wikipedia entry gets edited.
"I like friend of the show Tim Pawlenty," said Colbert. "So to up his chances, I'm going to get on the old Wikipedia to pump up his edit count."
---