Battleground state polls: Are there any positives for Mitt Romney?
(Read article summary)
Curiously, the polls of battleground states show President Obama leading Mitt Romney by wider margins than do national polls. The question of which are more accurate could be crucial.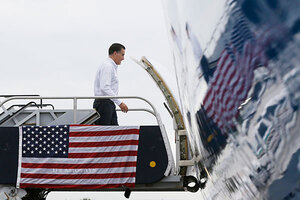 Charles Dharapak/AP
There are a bunch of new battleground state polls in the news Friday morning, and at first glance they don't look good for Mitt Romney.
The NBC News/Wall Street Journal/Marist Poll surveyed Wisconsin, Colorado, and Iowa for instance, and found President Obama ahead among likely voters in all three. And the leads aren't margin-of-error stuff – Mr. Obama's up by 5 points in Wisconsin, 5 points in Colorado, and 8 points in the Hawkeye State.
In Nevada, Obama's up by 3 points, 49 to 46 percent, according to a recent CNN/ORC International survey. And in Michigan the margin is 9 points, 39 to 30 percent. (Thirty percent of likely voters in Mr. Romney's home state remain undecided though, so there's still room for that to change.)
---