Is Joe Biden the GOP's new secret weapon?
(Read article summary)
The Romney camp has pounced on a gaffe Tuesday by Joe Biden and quickly used it in an ad, titled 'Couldn't Say It Better,' but it may struggle to sell Romney as a defender of the middle class.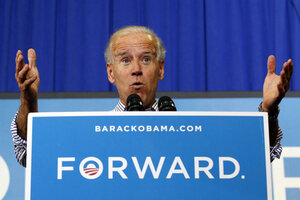 Chuck Burton/AP
Is Joe Biden the GOP's new secret weapon?
That's what the Mitt Romney presidential campaign appears to believe. It's begun to publicize VP Biden's twisted tongue moment of Tuesday, in which he said "the middle class ... has been buried the last four years," in an attempt to turn the sitting Veep's own words against his boss.
The Romney camp already has an ad up in which Biden is front and center. Titled "Couldn't Say It Better," it starts with about 15 seconds of clips of Romney and his VP candidate Rep. Paul Ryan saying that the "Obama economy" has crushed the middle class, workers are suffering, and so forth.
Then it cuts to Biden speaking Tuesday at a campaign appearance in Charlotte, N.C. "The middle class ... has been buried" he shouts to the crowd. Then comes a white screen, and a simple phrase, "We couldn't have said it better ourselves."
Top Romney surrogate Florida Sen. Marco Rubio was even more cutting at an appearance Wednesday in Colorado. He repeated Biden's statement to a roomful of Republicans, then said, "He's the best thing we've got going, guys. Because in a moment of clarity, in a brief moment of clarity, he told us what we already knew."
Will this work? Well, Biden's sentence certainly fits into the Romney campaign's original strategy for the race. That was to hammer home the jobless numbers and tie them to President Obama's stewardship of the economy.
---