Unemployment rate tampering? Why conspiracy theorists went wild.
(Read article summary)
Retired GE CEO Jack Welch saw Friday's jobs report, with its 7.8 percent unemployment rate, as 'unbelievable.' Others on the right piled on, suggesting Obama administration tampering. But the jobs number in question has been known to vary widely month to month.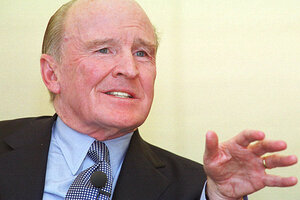 Kevin Lamarque/Reuters
Just a month before the election, did the White House "cook the books" to get the unemployment rate down to 7.8 percent in September?
That's how retired General Electric chairman Jack Welch sees it.
"Unbelievable jobs numbers..these Chicago guys will do anything..can't debate so change numbers," said the missive from his Twitter account after the latest jobs report came out Friday from the Labor Department.
Mr. Welch's tweet has set off a firestorm of activity in the virtual realm. Conspiracy theorists jumped on board as if the Obama administration had hidden reports of UFOs landing in the Rose Garden.
"Jobs #s from Labor Secretary Hilda Solis are total pro-Obama propaganda—labor force participation rate at 30-yr low. Abysmal!" wrote conservative radio host Laura Ingraham in a tweet.
And Rep. Allen West (R) of Florida, a favorite of the tea party, tweeted, "I agree with former GE CEO Jack Welch, Chicago style politics is at work here…."
Democrats quickly tweeted right back.
"love ya jack but you've lost your mind," wrote Austan Goolsbee on Twitter.
---