Presidential debate 101: How much would US save by cutting off Big Bird?
(Read article summary)
Eliminating federal spending for the whole Corporation for Public Broadcasting, not just Big Bird and 'Sesame Street,' would save about $445 million a year. It is less than a speck in overall government spending, but that's not MItt Romney's point.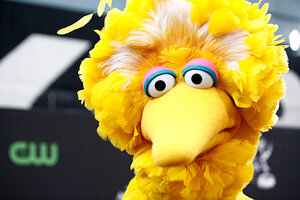 Matt Sayles/AP/File
How much money would Washington save if it stopped subsidizing Big Bird?
This question arises, of course, because during the presidential debate that's what Mitt Romney said he'd do if elected president. Asked what things he'd cut from the federal budget to help curb deficits, Mr. Romney mentioned the tax money that flows into the Public Broadcasting System. Then he got specific with moderator Jim Lehrer, a PBS star.
"I like PBS. I love Big Bird. I actually like you, too," he said to Mr. Lehrer. "But I'm not going to ... borrow money from China to pay for it."
OK, then. We'll focus first on Big Bird, then on public TV and radio in general, and their relationship to deficit spending.
It should come as no surprise that cutting Big Bird off the US dole would save very little money, relatively speaking. In part that's because Sesame Workshop, the company that produces "Sesame Street," gets most of its money from sources other than Uncle Sam.
---