With race tight, celebrities make the pitch for Obama
(Read article summary)
As the campaign enters the final stretch, a tidal wave of Hollywood types are cutting ads and making appearances on behalf of President Obama. Do celebrity pitches actually help?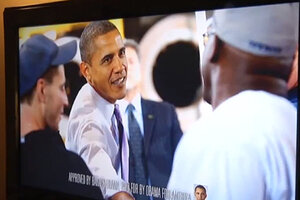 AP Video/AP
Politically, the United States may be a narrowly divided nation – but when it comes to celebrity endorsements, it's not even close.
With polls showing the presidential race has tightened into a dead heat, the Obama campaign and pro-Obama advocacy groups are playing the star-power card, unleashing a virtual tidal wave of Hollywood celebrities who are cutting ads, making appearances on the trail, and otherwise urging folks to turn out in support of the president.
There's this week's overt appeal to women, with Scarlett Johansson, Eva Longoria, and Kerry Washington attacking Mitt Romney's position on abortion in a MoveOn.org ad ("I want to talk to you about women – and about Mitt Romney").
There's America's own voice-of-God (otherwise known as Morgan Freeman) lending the narration to a new Obama ad airing in swing states.
There's the video from Rosie Perez, commenting on Mr. Romney's remark that he'd be better off if only he were Latino ("Actually…."). That one was produced by two pro-Obama "super PACS," one of which also recently turned out a satiric video by Samuel L. Jackson ("Wake the [word that rhymes with duck] up").
---