'Binders full of women': a revealing remark from Romney, or a sideshow?
(Read article summary)
'Binders full of women' is already the most memorable phrase of the second presidential debate, showing just how much the 2012 campaign revolves around issues narrowly targeted to specific groups – a strategy of the Obama campaign.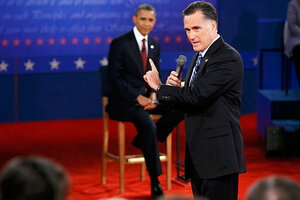 Rick Wilking/Reuters
With all the challenges facing our nation – from the millions of Americans still unemployed to terrorist threats abroad – is the presidential election really coming down to a fight over Planned Parenthood and Mitt Romney's "binders full of women"?
That last phrase, of course, was the unfortunate choice of words Mr. Romney used in Tuesday night's debate in explaining how, as a governor, he had made an explicit effort to appoint women to his Massachusetts cabinet. Upon discovering that most applicants for the posts were men, Romney said he asked his staff: "Well, gosh, can't we – can't we find some – some women that are also qualified?" He went on: "And – and so we – we took a concerted effort to go out and find women who had backgrounds that could be qualified to become members of our cabinet. I went to a number of women's groups and said: 'Can you help us find folks?' and they brought us whole binders full of women."
Let's put aside the fact that the accuracy of Romney's remarks has already come into question. (The Massachusetts Women's Political Caucus reportedly prepared the "binder" in question well before the election, and had presented it to both Romney and his opponent.) Or that the substance of his response was, in essence, a dodge of the question posed, which had been about equal pay for women.
The larger point is, in a feisty and serious debate that ranged from energy policy to tax policy to the attack in Libya, it's telling that the most memorable phrase to emerge from the whole evening was "binders full of women." It was, as many commentators have pointed out, this debate's Big Bird.
Apparently, that's just how the Obama team wants it. With an economic record that's still far short of where he hoped it would be – and with critics accusing the president of failing to offer a concrete, overarching vision for the next four years – Obama has run a campaign that often seems to focus instead on narrower appeals to specific segments of the electorate, just as George W. Bush did in 2004.
---