John Sununu and Obama: Time to talk openly about race in Election 2012?
(Read article summary)
Romney co-chair John Sununu called Colin Powell's endorsement of President Obama racially motivated. It shows how talk about race in Election 2012 has been through insinuations and insults.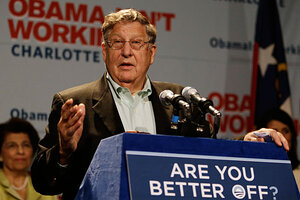 Lynne Sladky/AP/File
Is it time to start talking openly about race in the 2012 campaign?
Make no mistake: The topic has been a steady undercurrent throughout much of this election cycle. Unfortunately, for the most part, the discussion has been largely confined to ugly insinuations and counter-insinuations. Democrats have repeatedly accused the Romney campaign of using racial "dog whistles" to try to peel off support from working-class whites, while Republicans have complained about what they see as unfair accusations of racism.
One of the most frequent offenders along those lines from Democrats' point of view, former New Hampshire Gov. John Sununu, stirred the pot again Thursday night. Appearing on CNN, the national co-chair for the Romney campaign told host Piers Morgan that he believed Colin Powell's endorsement of President Obama was essentially based on race.
Mr. Sununu said: "I think when you have somebody of your own race that you're proud of being president of the United States – I applaud Colin for standing with him."
---