Are we all 'Bronco Bamma' girl, so tired of election we could cry?
(Read article summary)
The distress of the 'Bronco Bamma' girl, Abigael Evans, seemed to touch enough of a chord that NPR issued an apology, of sorts. But sometimes an unhappy or tired child is just that.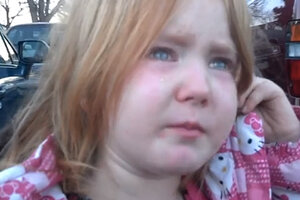 Youtube
Are we all "Bronco Bamma" girl, so tired of the election we could cry?
Don't know what we're talking about? You obviously haven't wasted any time on viral videos over the last several days. "Bronco Bamma" girl is four-year-old Abigael Evans, a Colorado tyke who burst into exhausted tears after hearing one too many reports on the 2012 presidential election.
The You Tube clip of this sobbing tyke has drawn close to 2 million views. It shows a crying Abigael saying "I'm tired of Bronco Bamma and Mitt Romney."
Off, screen, her mom Elizabeth Evans asks, "That's why you're crying?"
Abigael gives an affirmative nod, and hiccups.
"Oh, it'll be over soon, Abby, OK?" says her mom.
Apparently the little girl had heard one too many NPR election reports in the car transporting her to and from day care, since her family doesn't watch TV at home. That's what her mom said, anyway. You know E.J. Dionne and David Brooks – when they get into it, it's terrifying. It's like pro wrestling, except they're both wearing ties and neither one is rising from their chair or raising their voice.
NPR issued a formal apology. "We must confess, the campaign's gone on long enough for us, too. Let's just keep telling ourselves: 'Only a few more days, only a few more days, only a few more days'."
---