Electoral College 101: How it works. Why we're stuck with it.
(Read article summary)
Why is 270 the magic number on Election Day? Because it's the number of Electoral College votes needed to win the presidency. A look at the messy system the Founding Fathers bequeathed us.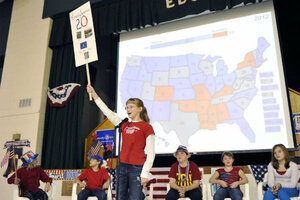 Andy Colwell/Erie Times-News/AP
The Electoral College: It's much more than a boring vestige of 18th century political theory. It's also the process by which US presidents are actually chosen, and a creaky machine that's driven voters batty for over 200 years.
But it's in the US Constitution (Article II, Section I) and it's not going away anytime soon.
So here's what you need to know about it to pass your Decoder 101 final exam:
• Point one is that under the Electoral College you don't vote directly for your favored presidential candidate. You may think that you do, and that's what the line on your ballot may say, but what you're really voting for is a slate of state electors who say they also support the nominee in question.
If "Dancing with the Stars" worked this way, you wouldn't vote directly for a couple, but for judges who'd already indicated they favored your choice. These judges would then travel to Philadelphia via horse-drawn carriage for a season finale aired live from Constitution Hall and hosted by a Ben Franklin hologram.
OK, that last part we made up. But the part about the elected electors is true.
• Point two is that each state gets one elector per member of Congress. If you're Alaska, you get three, because you've got two senators and one representative. If you're California, you've got 55, because you've got two senators and 53 representatives. The total of US electoral votes is 538. That's why 270 will be the magic number on Election Day night – it's half of 538, plus one.
---