Could Petraeus scandal enable fiscal cliff deal by diverting media glare?
(Read article summary)
With media locked on the melodrama involving the ex-CIA director and his biographer – and now ensnaring other top officials – the looming fiscal cliff wrangle is receiving less attention than anticipated. That could help.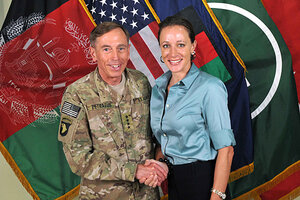 ISAF/AP
Everyone was expecting this to be a week of high drama in Washington: In the wake of his reelection, President Obama would begin official negotiations with congressional Republicans to fix the so-called "fiscal cliff," the combination of automatic spending cuts and massive tax increases scheduled to hit at the end of the year.
Both sides have indicated a desire to work together, but the policy preferences between them remain stark, and a deal is far from certain. If they fail to find a solution, the ramifications would be potentially disastrous for the nation's economy.
Under normal circumstances, this kind of high-stakes maneuvering would be the subject of intense media scrutiny, with nonstop cable news coverage, and partisans on both sides trying to gain leverage in the press and behind the scenes.
Instead, what we got this week was a different kind of drama entirely – one that's more reminiscent of high school, but that has sucked up virtually all the oxygen in the nation's capital.
We're referring, of course, to the adultery scandal involving former CIA Director David Petraeus and his biographer, Paula Broadwell – a mess that has now expanded to ensnare other officials, with the discovery of a trove of apparently inappropriate e-mails between Gen. John Allen, the top US commander in Afghanistan, and another woman, Jill Kelley, who was also on the receiving end of threatening e-mails from Ms. Broadwell.
---