Paul Ryan blames loss on surge in 'urban areas.' Is that right?
(Read article summary)
Paul Ryan is taking heat for blaming the Romney/Ryan loss on a surprising surge in 'urban areas.' But most of the battleground states ended up voting pretty much as the average of polls indicated they would.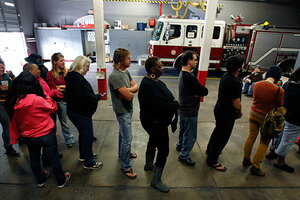 Gerald Herbert/AP
Did the Romney/Ryan ticket lose because of turnout among urban voters? That's what GOP VP nominee Rep. Paul Ryan implied Tuesday during an interview with a Wisconsin television station.
Representative Ryan said that he and presidential nominee partner Mitt Romney entered election night full of confidence, since the poll numbers they were looking at showed they had "a pretty good chance of winning."
Then electoral numbers came in running the other direction.
"When we saw the turnout that was occurring in urban areas that [was] unprecedented, it did come as a bit of a shock. So those are the toughest losses to have – the ones that catch you by surprise," Ryan told WISN in Milwaukee, a CNN affiliate station.
Ryan was taking some heat in the blogosphere Tuesday for the "urban areas" part of the above comment. Some saw it as a coded reference to "blacks." We won't bother to quote this discussion – if you want to see it, just search "Paul Ryan" in Twitter and read the vitriol that appears.
---