Stephen Colbert shuts super PAC. Where did the money go?
(Read article summary)
Stephen Colbert could essentially just pocket the money his super PAC didn't spend – a point he made in his further attempts to show the underside of campaign finance.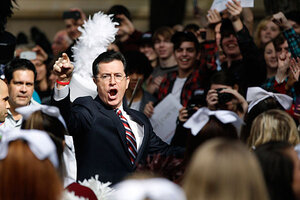 Jason Reed/Reuters/File
Stephen Colbert has closed his "super political action committee," in case you haven't heard. The funnyman announced the move on his eponymous Comedy Central show earlier this week. He said he was disappointed that rich groups such as his "Americans for a Better Tomorrow, Tomorrow" didn't appear to have had much influence on the election. He also professed to be worried that angry donors were after him for revenge.
"How did they find out I work at 'The Colbert Report'? " he wailed before sacrificing a canned ham dressed up as Karl Rove to appease his presumed pursuers.
Yes, that's what we said – he sacrificed a canned ham. He's a performance artist, what can we say? If you want more background on that, read Ham Rove's obituary, which has replaced the old Colbert super PAC home page on the web.
As the obit says, "don't stop bereaving."
As is often the case with Mr. Colbert, there's a bit more substance to this bit than first meets the wallet, um, eye. When he shut the super PAC, it still had almost $800,000 in contributions, mostly from small donors who'd sent in money after watching his show. What happened to the cash?
Glad you asked! We don't really know. It's quite possible that Colbert has just pocketed it as a hedge against Obama actually winning higher taxes on the rich. If he had, that would be perfectly legal.
Because that was Colbert's real point – that America's campaign-donation laws are even more bizarre than you think. They don't just allow groups unaccountable to the voters to gather and spend in elections unlimited amounts of cash. They also allow political entrepreneurs to take that cash and make it disappear, to be used for untraceable purposes.
---