Abandon no-new-tax pledge? Some in GOP consider the unthinkable.
(Read article summary)
Exit polls showed that the GOP is seen as favoring the wealthy over the middle class. That may be leading some to reconsider the party's devotion to the no-new-tax pledge – at least for the rich.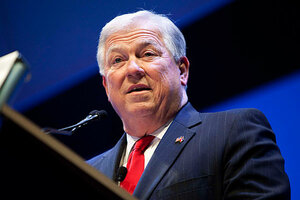 Joshua Roberts/REUTERS/File
As the Republican Party continues its post-election "proctology exam" (as the always colorful former Mississippi Gov. Haley Barbour – a Republican – put it), analyzing what went wrong and how to restore the party brand, we're starting to hear hints at a prescription that just two years ago would have been unheard of: Maybe it's time to throw Grover Norquist under the bus.
Mr. Norquist, of course, is the president of Americans for Tax Reform, and the author of the famous "no new taxes" pledge taken by most GOP members of Congress. In years past, if politicians violated – or even threatened to violate – the pledge, Norquist at times responded by running attack ads against them and even supporting primary challengers.
But as the parties begin negotiations over the "fiscal cliff" – the automatic spending cuts and tax increases scheduled to hit at the end of the year – there are signs that Norquist may be losing some sway. For one thing, as The Hill's Russell Berman recently noted, in the next session the number of members who have taken the pledge will go down to fewer than half overall. This is in part because of GOP losses, but also because roughly a dozen newly elected Republicans did not sign it, and a handful of returning Republicans have now explicitly rejected it.
And notably, Republicans are not only making conciliatory comments about new tax "revenue" in general – but some are also explicitly saying they'd accept higher tax rates on the wealthy.
---