What might Democrats give up in 'fiscal cliff' talks?
(Read article summary)
OK, Republicans have ceded ground on tax revenues. Now, under Obama's 'balanced' approach to averting the fiscal cliff, Democrats presumably would consent to spending cuts on entitlement programs or Obamacare. But what Dems would accept may not be what GOP has in mind.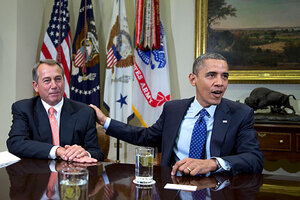 Carolyn Kaster/AP/File
What might Democrats give up in "fiscal cliff" talks? That question arises Tuesday as Republicans complain that they've acceded to increases in government revenue but Democrats haven't detailed any spending cuts they'd accept.
President Obama has talked about his preference for a "balanced" solution to the crisis, with about $1.6 trillion of new revenue as part of a $3 trillion deficit-reduction package spread over 10 years. He's been largely silent on the spending reduction side of this balance, however, and some Democrats have indicated they'll fight if Mr. Obama tries to slash entitlement programs, as the GOP wants.
"In the past, Democrats have demanded tax hikes now for spending cuts that never happened. Not this time. A balanced approach means real cuts, now," said Senate minority leader Mitch McConnell of Kentucky on the Senate floor Tuesday.
Of course, to some extent GOP lawmakers have also fuzzed their proposed fiscal cliff solutions. While House Speaker John Boehner and others have talked vaguely about "new revenues," they've haven't said how those new revenues might be produced. Plus, they've continued to resist allowing Bush-era tax cuts to expire for the very wealthy, as Obama wants.
But Republicans say that they've stepped out of their comfort zone by even discussing revenue hikes, and that in return Democrats must talk about sweeping entitlement changes. What sorts of changes? Consider the provisions of a 10-year, $4.5 trillion deficit-cutting plan that Sen. Bob Corker (R) of Tennessee is currently circulating. He calls for a gradual increase in the Social Security retirement age to 68 and in the Medicare eligibility age to 67, plus a less generous mechanism for adjusting Social Security outlays due to inflation, among other things.
---