Amid GOP rage against Susan Rice, how Hillary Clinton has remained unscathed
(Read article summary)
Unlike Ambassador Rice, Secretary of State Hillary Clinton has not come under fire for Benghazi – a reflection of strong relationships she built in the Senate, and the broad popularity she currently enjoys.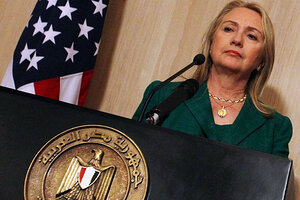 Reuters
As Republicans on Capitol Hill continue their public flogging of Susan Rice, the US ambassador to the United Nations, it's hard not to notice that a more senior administration official – who, arguably, might bear more responsibility for what went wrong in Benghazi – has largely escaped criticism.
We're referring, of course, to Secretary of State Hillary Rodham Clinton.
True, a handful of right-wing news outlets have raised questions about why Ms. Clinton's department failed to heed earlier warnings about security concerns in Benghazi. But the top Republican senators driving this story have so far chosen to leave Clinton largely out of the discussion.
It's a remarkable turnaround for a woman who, not too long ago, was seen as such a lightning rod that she could have easily been called "GOP Enemy No. 1." Today, the secretary of State is the de facto Democratic frontrunner for the 2016 nomination (though she has not made a decision about whether to run) and seems almost – as Saturday Night Live's Darrell Hammond once famously called her husband – "bulletproof."
The lack of criticism directed at Secretary Clinton over Benghazi may be in part a reflection of her years in the Senate – a still-clubby institution that instinctively protects its own. Clinton only served two terms, but she made the most of her time there, reaching across the aisle and developing close relationships.
---