Debt ceiling debate twist: Sen. Mitch McConnell filibusters himself
(Read article summary)
Yes, another debt-ceiling debate is looming, and the Senate's attempt to deal with the issue Thursday involved complex legislative machinations that appeared to backfire on Mitch McConnell.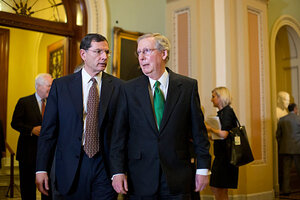 J. Scott Applewhite/AP
Just in case the pending political apocalypse of the "fiscal cliff" wasn't enough to satisfy America's attention span, the US Senate on Thursday conspired to remind voters that another equally apocalyptic fiscal issue is looming out there on the horizon.
Yes, the debt ceiling will be making a comeback no later than early 2013, and senators decided to talk about it Thursday.
Not surprisingly, it illuminated the complicated politics and policy that go along with raising the national borrowing limit these days. And also not surprisingly, perhaps, it went nowhere, concluding with the somewhat comical scene of Senate minority leader Mitch McConnell (R) of Kentucky filibustering his own proposal.
Welcome to Capitol Hill.
The story begins with President Obama's own debt-ceiling proposal. Essentially, on Wednesday, his Treasury Department asked Congress to cede its power over the debt ceiling to him.
This is how it would work: The president would ask to raise the debt limit and Congress would have 15 days to pass a joint resolution of disapproval. The president could then veto their disapproval and require Congress to override his veto with 60 percent majorities in both bodies.
The proposal was important for two reasons.
---