Are Republicans really 'incapable' of beating Hillary Clinton in 2016?
(Read article summary)
Former House Speaker Newt Gingrich said over the weekend that his party could not rise to Mrs. Clinton's level. But she might not be as formidable as it appears.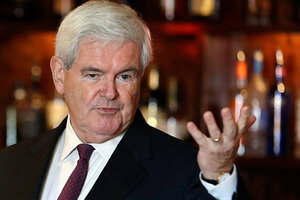 Jeff Roberson/AP/File
If Hillary Rodham Clinton decides to run for president in 2016, would she be unbeatable? That's the pronouncement of former GOP Speaker and onetime presidential candidate Newt Gingrich.
On NBC's "Meet the Press" Sunday, Mr. Gingrich flatly proclaimed his party "incapable" of beating Mrs. Clinton in a potential 2016 matchup.
"[I]f their competitor in '16 is going to be Hillary Clinton – supported by Bill Clinton and presumably a still-relatively-popular President Barack Obama – trying to win that will be truly the Superbowl," Gingrich said. "And the Republican Party today is incapable of competing at that level."
Wow. We realize Gingrich has been rehabilitating himself as a Republican wise man of sorts – and for partisan pundits, provocative critiques of one's own party are always a great way to generate attention (we're writing about it, aren't we?). But to blithely write off the chances of the entire 2016 GOP field a full four years in advance is eyebrow-raising, even for a politician as prone to "grandiose" (as he once put it) statements as Gingrich.
We agree that Clinton would, indeed, be a formidable candidate, but we're not sure she'd be as impossible to beat as Gingrich suggests.
---