Senator Jenny Sanford? Why it might be a smart pick.
(Read article summary)
Jenny Sanford, ex-wife of South Carolina's ex-governor, is reportedly on the short list to fill outgoing Sen. Jim DeMint's seat. It could present the GOP with a much-needed opportunity to appeal to women.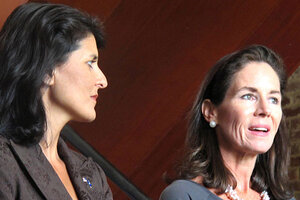 Bruce Smith/AP/File
You could call it The First Wives Club Comes to Washington.
CNN reported Tuesday that South Carolina Gov. Nikki Haley (R) has finalized a short list of candidates to fill GOP Sen. Jim DeMint's soon-to-be-vacant seat – and that one of those currently under consideration for the post is Jenny Sanford.
Governor Haley later said only her husband knows the actual list. But she did not dispute any of the specific names mentioned. And while the job may still ultimately go to Rep. Tim Scott (R) – seen by many as the leading candidate and Senator DeMint's preferred choice – there are several reasons Jenny Sanford could be a politically smart pick.
Mrs. Sanford is, of course, best known as the former wife of the state's former governor, who briefly captivated the nation back in 2009, when he mysteriously disappeared for several days. His aides at first claimed he'd gone hiking on the Appalachian Trail. It turned out he was visiting his mistress in Argentina. Mr. Sanford then went on to compound the situation when he laid bare his feelings in an excruciating, rambling press conference.
---