What counts as a tax hike? Not Boehner 'fallback' plan, says antitax group
(Read article summary)
Lawmakers who vote to let tax cuts lapse for millionaires would not be violating an antitax pledge, says a group led by activist Grover Norquist. House Speaker John Boehner has put forward such a bill, stirring fury of other conservatives.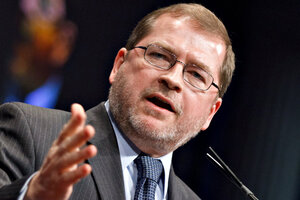 J. Scott Applewhite/AP/File
The keeper of the GOP's antitax oath has rendered judgment on House Speaker John Boehner's fallback "fiscal cliff" plan that would allow Bush-era tax cuts to expire only for millionaires: It is not a tax increase.
So decrees Americans for Tax Reform, the conservative advocacy group led by antitax activist Grover Norquist. With that step, the group gives a measure of political cover to congressional Republicans who back the speaker's plan to retain current low tax rates for all but those with incomes higher than $1 million.
"Republicans supporting this bill are this week affirming to their constituents in writing that this bill – the sole purpose of which is to prevent tax increases – is consistent with the pledge they made to them," said Americans for Tax Reform, in a statement. "In ATR's analysis, it is extremely difficult – if not impossible – to fault these Republicans' assertion."
But the statement gives only partial cover, because other conservative groups that throw millions of dollars into political campaigns rattled their sabres on Wednesday, warning Republicans to steer clear of any proposal that does not extend the Bush-era tax rates for all Americans."
If the Republicans support this tax increase, they will lose control of the House in the 2014 elections.... Not only that, but a whole lot of members who thought they were safe and thought they could get away with this will lose in their own districts," says conservative activist and fundraising heavy-hitter Brent Bozell.
---