Immigration reform in 2013? It has a champion in Corporate America.
(Read article summary)
US Chamber of Commerce President Tom Donohue says he's optimistic that immigration reform can be passed this year and is working with a broad array of partners to make that happen.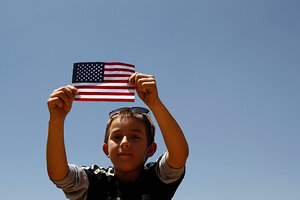 Jim Young/Reuters/File
Corporate America's top lobbyist Thursday laid out a slew of the business community's top goals for the year – lower regulation, increased trade, booming energy production, and a fix to the nation's fiscal situation.
But US Chamber of Commerce President Tom Donohue was particularly bullish, and at times passionate, on another long-sought goal, one not often associated with the conservative-leaning group: immigration reform.
"I have an optimistic feeling about this," Mr. Donohue told reporters after his annual State of American Business speech. "Before, everybody talked about it, everybody understood the issues, but there wasn't an energy behind it and I think there is a bipartisan group of people – we haven't got everybody, that's for sure – but I feel positive about it and look forward to [immigration reform] this year."
The Chamber has been a firm advocate for immigration reform, an issue more closely identified with liberal advocates, for many years, including its support for 2006 legislation that stalled in the Republican-controlled House of Representatives.
Donohue said his conversations with lawmakers from both parties on Capitol Hill make him optimistic for a solution in 2013. He also noted that the Chamber is working with groups ranging from faith organizations to law enforcement to labor unions including the nation's largest – and staunchly progressive – labor group, the AFL-CIO, to forge a broad political coalition to support an immigration reform effort.
"We will find a balance in these issues," Donohue said, before calling AFL-CIO head Richard Trumka, a man with whom Donohue is working personally, "about the best guy in town at building coalitions."
---