Could gun control be the new gay marriage?
(Read article summary)
The public's views on gay marriage have moved decidedly to the left, spurred by demographic and generational changes in the electorate. But that same electorate has shifted to the right on gun control. Why the politics of the two issues are different, for now.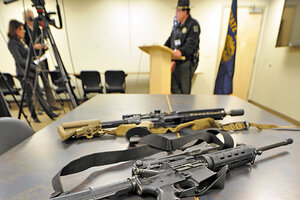 Jamie Lusch/The Medford Mail Tribune/AP
Is gun control the new gay marriage? Or are the issues more like mirror images of one another?
Both could be categorized as hot-button topics that for years generated more political activism on the right than on the left. Both have also seen a recent shift in public opinion that, in the case of gay marriage, is upending the politics surrounding the issue, and in the case of gun control, has the potential to do so.
But there are big differences between the two, as well. Gun control has been around as an issue much longer than gay marriage, and public opinion on it has waxed and waned – with support often spiking after a high-profile shooting, only to fall again. Moreover, the long-term trend on gun control, unlike gay marriage, has been a rise in opposition. As recently as April, the Pew Research Center put out a report noting the divergent trends on the two issues, noting that "on gun control, Americans have become more conservative; on gay marriage, Americans have become more liberal."
Still, gun-control proponents including New York City Mayor Michael Bloomberg have been arguing vociferously that the issue is not nearly the political loser that Democrats have for years assumed it to be. And the dramatic change that's been occurring when it comes to public opinion on gay marriage – pulling politicians along with it – offers an intriguing model as to where the politics surrounding the gun issue could potentially be headed.
---