Lessons from Lance Armstrong: Comebacks are easier for politicians
(Read article summary)
Lance Armstrong, who admitted to doping, may or may not hope to mount a comeback in sports. But here's one profession that seems to provide a relatively easy path to redemption: politics.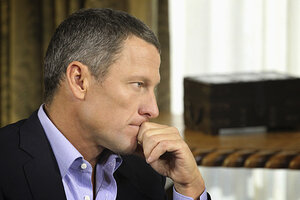 Courtesy of Harpo Studios, Inc., George Burns/AP
On "The Tonight Show" Thursday night, Jay Leno had this reaction to cyclist Lance Armstrong's much-anticipated confession that he'd used performance-enhancing drugs: "The guy's a liar, a cheat, a hypocrite, a fraud. Where's he going to find work? OK, besides Congress. I mean, besides Congress, there are not a lot of options."
It's a funny quip, of course – but it also happens to have more than a grain of truth to it. For public figures who have experienced humiliating falls from grace – often involving confessions of wrongdoing and tearful apologies – there may be no more forgiving profession than politics.
Just this week, former South Carolina Gov. Mark Sanford (R) – whose infamous 2009 Appalachian Trail trip turned out to be a visit to his Argentine mistress – announced he will attempt to return to Congress, where he served from 1995 to 2001, by seeking the seat vacated by now-Sen. Tim Scott (R).
"We all hope for redemption, we all hope for second chances," Mr. Sanford told a local TV station in an interview. "Whether or not I'm granted one, time will tell. But what I would say is, it's a fresh start in that, you know, after you have failed at something, I think you see life through a different prism. So the prism I have is maybe with a little bit greater humility and a little bit more reserve, but it is to say, 'Well, can I take what I learned on the way up and on the way down; can I take what I learned in Congress and the governorship and apply it?' "
If Sanford succeeds, he'll join a long list of men who've resurrected their political careers after highly publicized (most often extramarital and usually not illegal) missteps.
---