Mitt Romney to speak at CPAC. Why?
(Read article summary)
Mitt Romney says he'll speak next month at CPAC (Conservative Political Action Conference) to say thank you. But maybe he'll also outline his plans for staying involved in politics.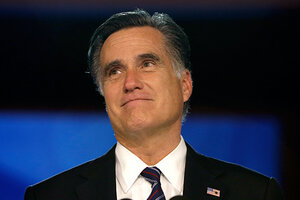 Charles Dharapak/AP/File
Mitt Romney is reemerging, sort of. The American Conservative Union announced Thursday that the former Republican presidential candidate will speak at next month's Conservative Political Action Conference outside Washington, D.C. This will mark Mr. Romney's first real public appearance since the election, and the former Massachusetts governor himself says it's a simple chance to close the loop and pay his respects.
"I look forward to saying thank you to the many friends and supporters who were instrumental in helping my campaign," said Romney in ACU's press statement.
Why is he really doing this? One possibility is that he'll announce what he's going to do next. Lots of political types figure that's the real point of the address, at least for the Romney camp. All reports are that he has been bored puttering around his new home in La Jolla, Calif. – no car elevator jokes, please – and CPAC would be a decent forum for him to outline how he's going to keep a hand in politics. Or if not a full hand, at least a finger, OK? He's said in the past that he wasn't going to completely ride off into a lucrative private-sector sunset.
---