Jeb Bush sounding more like a presidential candidate
(Read article summary)
In an interview, former Florida Gov. Jeb Bush said he 'won't' rule out a run in 2016 and seemed to be positioning himself in a way that would appeal to Republican primary voters.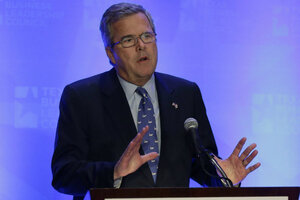 Eric Gay/AP
Watch out, Marco Rubio.
Former Florida Gov. Jeb Bush – who, by any measure, would instantly become one of 2016's heavyweights should he decide to run for president – is hinting that a campaign might actually be in the cards.
Pressed on NBC's "Today" Monday as to whether he would "rule out" a run, he answered directly: "I won't," adding, "but I'm not going to declare today, either." Sounding like someone who intends to be a significant player, Mr. Bush said that while 2016 is "way off into the future," he's hoping to "share my beliefs about how the conservative movement and the Republican Party can regain its footing – because we've lost our way."
Now, of course, Bush also happens promoting a new book, "Immigration Wars," which is being released Tuesday. (He'll be a guest at the Monitor Breakfast on Wednesday.) And there's nothing like a swirl of presidential speculation to bring extra publicity to such an effort – frankly, he'd be crazy to rule out a run, for that reason.
But his comments, while still leaving plenty of wiggle room, were notably more definitive than anything he's said in the past. In fact, they were more definitive than what most other prospective 2016ers, such as Senator Rubio, have said so far. Most tend to offer something along the lines of, "I'm not thinking about that right now; I'm focused on the job at hand," and leave it at that.
---