Brennan CIA nomination clears panel. What did White House have to divulge?
(Read article summary)
The nomination of John Brennan to head the CIA had languished in the Senate Intelligence Committee. Panel members were keen to know about the legal defense of the secret US drone program.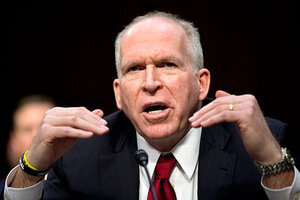 J. Scott Applewhite/AP/File
The Senate Intelligence Committee voted 12 to 3 Tuesday in a closed-door meeting to approve John Brennan's nomination as director of the CIA. The Brennan nomination now moves to the Senate floor, where Democrats believe they have enough votes to win his confirmation.
The Brennan pick had been stuck in the panel for days. So here's our question: What happened? Specifically, how much information on the secret US drone program was the White House forced to disclose to committee members to get the nomination moving?
The short answer here is that it appears the administration produced some, but far from all, of the documents it has been withholding from lawmakers on this issue. Human rights organizations on Tuesday continued to charge that the White House had not released nearly enough information about the basis for its belief that it is legal for the US to target terror suspects with armed unmanned aircraft.
"President Obama must do more to prove that his administration is serious about human rights," Zeke Johnson, director of Amnesty International USA's Security with Human Rights Campaign, said in a statement issued just prior to the Brennan vote.
---