Assault weapons ban now unlikely to pass. What happened?
(Read article summary)
Senate majority leader Reid says the assault weapons ban will not be included in the gun control legislation he'll bring to the Senate floor, giving the other measures a better chance at passage.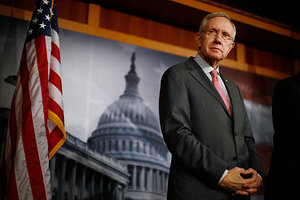 Jason Reed/Reuters/File
The assault weapons ban is not going to be included in the package of gun control measures that majority leader Harry Reid will bring to the Senate floor for a vote.
Assault weapons prohibition sponsor Sen. Dianne Feinstein (D) of California told reporters Tuesday that she'll be able to offer her legislation as a separate amendment, but that she recognizes its exclusion from the primary bill all but dooms its chance of passage.
"Obviously I'm very disappointed.... The enemies on this are very powerful. I've known that all my life," said Senator Feinstein.
What's behind this development? The assault weapons ban was unlikely to pass the Senate in any case, and had become so unpopular it risked taking down with it other gun control measures, such as new restrictions on weapons trafficking and a possible expansion of federal background checks.
Senator Reid, a Nevada Democrat, made this point clear Tuesday in surprisingly blunt remarks of his own. He noted that Feinstein feels deeply about the ban, dating back to when, as a member of the San Francisco Board of Supervisors, she found gay activist and city official Harvey Milk shot dead in his office by a rival politician. But he added that his job is to try to cobble together a gun bill that might command 60 Senate votes and thus pass despite any GOP filibuster. [Editor's note: The original version of this paragraph incorrectly identified Mr. Milk.]
The assault weapons ban "has less than 40 votes," said Reid. "That's not 60."
In truth, it's been clear for a long time that the assault weapons ban was doomed, notes Washington Post political blogger Chris Cillizza.
---