'If babies had guns they wouldn't be aborted.' Is Rep. Steve Stockman serious?
(Read article summary)
Rep. Steve Stockman sees himself as a conservative insurgent and likes to shock. But his new bumper sticker promoting his pro-gun and anti-abortion views might have a specific agenda.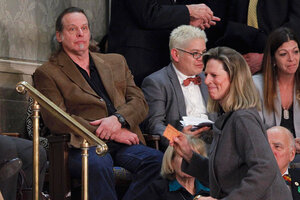 Jason Reed/Reuters/File
Rep. Steve Stockman (R) of Texas touts himself as "the most conservative congressman in Texas." His new bumper sticker should erase any doubts.
On Friday, Representative Stockman's Twitter account unveiled his new campaign bumper sticker: "If babies had guns, they wouldn't be aborted. Vote Pro-Life!"
For Stockman, the bluntness and the desire to shock are nothing new.
It was Stockman who invited gun enthusiast Ted Nugent to be his guest at President Obama's State of the Union address in February. This is the Ted Nugent who once said: "If Barack Obama becomes the president in November again, I will either be dead or in jail by this time next year."
Later, in a YouTube video chat with Mr. Nugent, Stockman asked about the victims of gun violence that Mr. Obama had invited to the State of the Union: "Do you feel that the people that Obama have brought forward to hear his speech, do you feel like they are useful idiots or props in this?" (The video has since been removed, the New York Daily News reports.)
Stockman is an agitator, and social media has given him broader scope to portray himself as a "defender of the cause." And like former Democratic Rep. Alan Grayson of Florida, who once likened his conservative opponent to the Taliban and who said Republicans' health care plan amounted to "die quickly," Stockman apparently relishes in bringing the inflammatory tone of the blogosphere into public discourse.
---