After Senate defeats, prospects for gun control shift to states
(Read article summary)
The failure of the Senate to pass even gun control measures that had overwhelming public support signals that the clout of the gun lobby is powerful enough to block reform on Capitol Hill.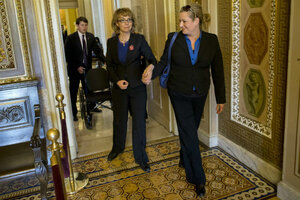 Evan Vucci/AP
Following a dramatic defeat in Wednesday's Senate vote on a raft of gun control provisions, a defiant President Obama and his posse of gun control advocates are vowing to press on – but the way forward is more likely to be off Capitol Hill, in state houses and legislatures.
Wednesday's gun defeat was a grim chapter for gun control advocates and – if the Senate's vote was any indication – future prospects for gun control legislation in Congress appear grimmer.
Each of the seven amendments voted on Wednesday failed (two more are scheduled for Thursday), including Mr. Obama's centerpiece effort and the bipartisan proposal with overwhelming public support, expanded background checks. The quashing of that provision "likely marks the end of the entire effort in the Senate," reports NBC News.
Even more telling was the fate of the least controversial piece of legislation, a measure to crack down on gun trafficking, which had the support of the National Rifle Association and was expected to pass with just a voice vote. That too, failed.
The disappointment in Washington was palpable.
Flanked by visibly grieved relatives of Newtown, Conn., shooting victims, Obama called it "a pretty shameful day for Washington."
Shooting survivor and former US Rep. Gabrielle Giffords (D) of Arizona penned an angry opinion article in The New York Times claiming that senators "gave into fear and blocked common-sense legislation."
---