Boston bombing. Ricin in D.C. Texas inferno. Any links?
(Read article summary)
Boston bombing case has no suspect or suspects, which has opened the door to speculation. But the fire in Texas appears to be happenstance, and an arrest has been made in connection with the poison-laced letters.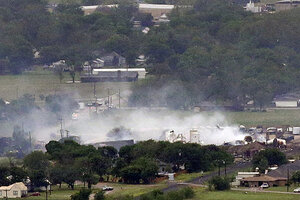 Tony Gutierrez/AP
Deadly bombs at the Boston Marathon. Poison-laced letters sent to President Obama and Capitol Hill. A Texas fertilizer plant explosion so massive it registered on the Richter scale.
Bad news has piled up fast in recent days. It's tempting to look for clues that link the events together. As Politico's chief political columnist Roger Simon tweeted on Wednesday night, "Conspiracy theorists gonna have a field day tomorrow."
But it's worth pointing out that at this point, there is no evidence that Boston, ricin, and West, Texas, are related in any way.
Beginning with the latest development: To all appearances, the Texas tragedy was happenstance. A fire started in one part of the West Fertilizer Co., and local firefighters responded to try to put it out. A few minutes later, the fire lit some of the large quantities of ammonium nitrate fertilizer that's produced and stored at the plant. At high temperatures, this common substance becomes a powerful explosive.
"Based on what I've heard, it's probably an industrial accident of some sort," said Rep. Bill Flores (R) of Texas Thursday morning during an appearance on CBS.
---