Jon Stewart channels Dr. Seuss to mock Obama's 'red line' on Syria
(Read article summary)
Jon Stewart joins a chorus of critics poking fun at President Obama's shifting red line on Syria. But polls signal that most Americans oppose US involvement in Syria – or aren't following the issue.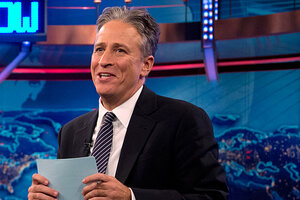 Carolyn Kaster/AP/File
When it comes to Syria, President Obama's not much better that a spineless parent issuing empty threats.
At least, that's according to Jon Stewart of "The Daily Show," who mocked the president's ever shifting "red line" on Tuesday night's episode.
That red line, as Mr. Obama has sternly asserted time and again, is the use of chemical weapons by the regime of Syrian President Bashar al-Assad.
"You cross that line, mister, you are grounded," Mr. Stewart warned an imaginary President Assad.
Flash to footage of Defense Secretary Chuck Hagel confirming, "with some degree of varying confidence," that the Assad regime has used chemical weapons.
And back to Stewart, gleefully awaiting the fire and brimstone about to rain down on Assad.
…And waiting.
"We don't know how they were used, when they were used, who used them," Obama said Tuesday in a press conference, walking back his threatening stance.
This line so tickled Stewart, he went Seussical.
"Did he use them in a boat? Did he use them with a goat? Did he use them in a house? Did he use them with a mouse?" (From Obama's new book, "Red Lines and Gas," if you're interested.)
The new red line, it seems, has shifted. (We hope Obama's using erasable ink.)
---