Michelle Obama back on book tour. How successful are first lady authors?
(Read article summary)
Michelle Obama, like every other first lady author in the 20th and 21st centuries, sells books – lots of them. Every first lady since Lady Bird Johnson has written a White House memoir.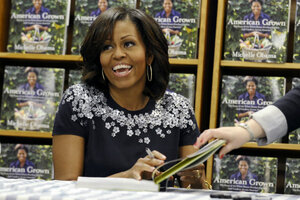 Susan Walsh/AP
Michelle Obama is back on the book tour circuit for her gardening tome, "American Grown." On Tuesday, about 250 people braved a soaking rain to line up outside northwest Washington's Politics & Prose bookstore and then file through for an autograph and a few seconds of chat with the nation's first lady.
"Buy away. It's Mothers Day. It's coming up," said Mrs. Obama, to laughter from the damp crowd. They'd all purchased an "American Grown" copy as the price of their admission.
"American Grown" is a sumptuous picture book, the story of the White House garden. It came out last year and more than 175,000 copies have been printed, according to publisher Random House. It's got recipes and stories about other gardens that have inspired Obama, including a scent garden for the visually impaired at a New York City school.
During the appearance Obama admitted that her own daughters really just like to thumb through the book's illustrations. She added that, slowly but surely, they've started to read the text, as well.
"And that's really the hope – that the pictures draw people of all ages in and then they start to read it and maybe start thinking about how to start a garden on their own, because there are many ways to do it," said Obama.
---