Why furor over IRS tea-party scandal won't subside, despite ouster
(Read article summary)
The removal of the acting IRS chief and Thursday's appointment of a new one will do little to quiet the storm over the tax agency's targeting of politically conservative nonprofit groups. What steps might?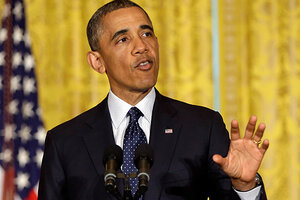 Pablo Martinez Monsivais/AP
Editor's note: This story was updated at 4 p.m. EDT.
The heads are starting to roll at the Internal Revenue Service, but it will take a lot more than a single high-profile resignation to quiet the storm raging over the IRS targeting scandal.
In a delayed act of damage control, President Obama announced Wednesday evening the forced resignation of Acting IRS Commissioner Steven Miller. It was, of course, only a matter of time, an expected move to assign blame and accountability, as well as provide catharsis for an angry public.
The president wasted no time naming a temporary replacement, on Thursday selecting Daniel Werfel, controller of the White House Office of Management and Budget (OMB), to take on the unenviable task of rebuilding the tarnished agency's reputation.
"Americans are right to be angry about it, and I'm angry about it," Mr. Obama said Wednesday when revealing Mr. Miller's departure, adding that he "will not tolerate this kind of behavior in any agency, but especially in the IRS, given the power that it has and the reach that it has."
The Obama administration also released a letter from Treasury Secretary Jack Lew that demanded that Mr. Miller resign in order "to restore public trust and confidence in the IRS." (The IRS is part of the Treasury Department.)
---