IRS deliberately harassed conservatives, majority say in poll
(Read article summary)
A new poll on the IRS scandal also finds that those who say the Obama administration is trying to conceal information outnumber those who say it's forthcoming. The tea party, meanwhile, is enjoying a 'bump.'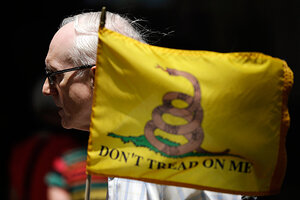 Matt Slocum/AP
The Internal Revenue Service's slow-motion train wreck of a scandal just got a bit worse. That's according to a new poll that offers fresh insight into how Americans perceive the IRS targeting scandal – and points to badly bungled damage control on the part of the agency and the administration.
According to the Washington Post/ABC News poll released Tuesday, 56 percent of respondents believe IRS scrutiny of tea party groups seeking tax-exempt status was a deliberate move to target conservative groups. Only 31 percent said the targeting was an "administrative mistake."
What's more, 45 percent of poll respondents said the administration is trying to cover up facts about the scandal, while 42 percent said it is honestly disclosing what it knows.
For those who have watched this train wreck unfold, the findings are hardly surprising. After all, both the IRS and the Obama administration handled the mess with the grace of an elephant dancing backward in high heels.
There was the IRS's initial decision to keep knowledge of the targeting practice, which began as early as 2010, under wraps for years.
There was its bizarre scheme to finally make the news public – not by informing Congress, issuing a press release, even leaking the news to a friendly media outlet. No, the agency planted a question in the audience of a little known law conference to get the news out.
---