Chris Christie to stroll Jersey Shore with Obama (again!): What's he thinking?
(Read article summary)
In the wake of superstorm Sandy, GOP Gov. Chris Christie praised President Obama for helping to speed the federal disaster response, infuriating conservatives. Now the two are set to tour again.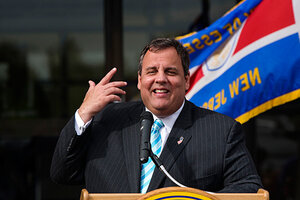 Lucas Jackson/Reuters/Files
Chris Christie is welcoming a VIP to the Jersey Shore on Tuesday to see the area's recovery efforts – President Obama.
Yes, it's true. The GOP New Jersey governor is once again set to stroll along the boardwalk with the Democratic US chief executive, delighting many of his constituents but rankling conservatives across America.
You'll remember that in the wake of superstorm Sandy, prior to last November's election, Governor Christie welcomed Mr. Obama to the Garden State and praised him for helping to speed the federal response to devastated coastal areas. This infuriated supporters of the Republican White House hopeful, Mitt Romney. Some in the Romney campaign blamed Christie for contributing to Romney's subsequent defeat.
Now Obama's on the defensive in Washington, due to the IRS scandal, Benghazi hearings, revelations about federal seizure of journalists' phone records, and so forth. So what's an embattled president to do? Road trip! Back to the Jersey Shore for a little skee ball and some fries in a paper cup, and suddenly that 48 percent approval rating doesn't look so bad. Maybe the voters will forget some of the bad stuff as summer starts, amirite?
"The fact of the matter is, he's the president of the United States and he wants to come here and see the people of New Jersey. I'm the governor and I'll be here to welcome him," said Christie Friday morning during an appearance on NBC's "Today."
What's Christie thinking? If he's ever going to run for president, he'll need to win Republican primaries, and that's going to be hard to do if the voters in, say, South Carolina think you're a turncoat and Republican In Name Only (RINO).
Yes, but he's also up for reelection to his current office this year, and last time we looked, New Jersey was a blue-leaning state. In that context, the joint appearance with Obama can only help.
And reaching out to the other party is working pretty well for Christie so far, electorally speaking. Paterson City Council president Anthony Davis endorsed Christie earlier this week, becoming the 14th prominent state Democrat to back the incumbent governor.
---