Edward Snowden a hero to many young Americans, poll suggests
(Read article summary)
Edward Snowden performed a public service in leaking information about NSA programs, say 60 percent of Americans age 18 to 29, according to a poll. Tea partyers and liberals also approve.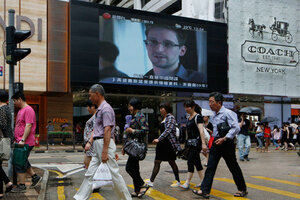 Kin Cheung/AP
A majority of Americans believe Edward Snowden should be criminally prosecuted for leaking classified information about government surveillance programs, according to a new national poll. But you might be surprised by the unlikely grouping of cohorts who suggest the information he has revealed is in the public interest.
First off, 54 percent of Americans say the government should pursue a criminal case against Mr. Snowden, the former Booz Allen Hamilton contractor who has fled to Hong Kong, according to a new Pew Research Center and USA Today survey. But digging into the numbers, it's interesting to note that tea party loyalists, liberals, and young people suggest the National Security Administration leak outlining extensive phone and e-mail monitoring programs is in the public interest.
People who identify themselves as tea partyers believe the release of this information is in the public interest by a 56 to 39 percent margin. An almost identical segment of liberals – 57 to 38 percent – say the same.
Meanwhile, the 18-to-29-year-old set feel even more strongly – 60 percent to 34 percent – that American citizens are well-served by the knowledge Snowden has provided. And a minority of young people, 44 percent, believe he – or as the survey frames it, "the person responsible for leaking the classified information" – should face criminal charges.
What unites these subsets of the population? Former President George W. Bush might call them freedom lovers.
"We saw the same pattern with the Patriot Act," says Democratic pollster Celinda Lake. "This pattern was particularly acute in the West. These issues unite the people who dislike government interference and believe in 'black helicopters' with liberals who since Vietnam dislike and distrust government in many of its war and terrorist activities."
---