Why many 2016 GOP hopefuls are mum on Supreme Court gay marriage moves
(Read article summary)
Some possible Republican presidential candidates – Rick Santorum and Marco Rubio – chided the Supreme Court for its actions Wednesday on gay marriage cases. But many others remained quiet. Why is that?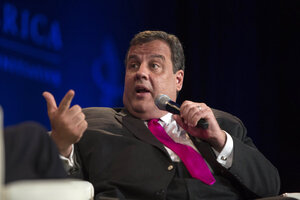 Scott Eisen/AP
Some high-profile Republicans have been drawn to the cause of marriage equality, perhaps most notably attorney Ted Olson, who represented the plaintiffs in the Proposition 8 case in California; US Sen. Rob Portman of Ohio, whose son is gay; and former Republican National Committee Chairman Ken Mehlman, who recently announced after years in politics that he is gay.
But in the wake of the US Supreme Court's landmark actions Wednesday overturning the federal Defense of Marriage Act (DOMA) and dismissing an appeal brought by Prop. 8 defenders, many likely Republican presidential hopefuls are steering clear of commenting on either outcome. In what's expected to be a crowded field of 2016 contenders, who first must woo their party's conservative base to emerge as the eventual GOP nominee, the collection of possible candidates has been largely mum.
Why? Because angry or hand-wringing remarks they make now could come back to bite them in a general election campaign, should they make it that far. And with the Republican Party struggling to court swing voters – young people and minorities, in particular – potential candidates might risk alienating potential backers.
---