Texas abortion uproar: Could backlash turn Lone Star State blue? (+video)
(Read article summary)
Outrage is running high among Texas Democrats after the Republican-led Legislature pushed through a tough new abortion bill. While change is coming, a blue Texas is not imminent, it seems.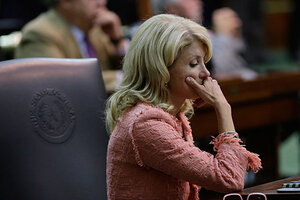 Eric Gay/AP
Texas legislators last week passed a suite of antiabortion laws that, according to critics, would result in the closure of all but five of the state's 42 abortion clinics.
With state Sen. Wendy Davis (D) making herself a statewide celebrity through her efforts to forestall the bill – including an 11-hour filibuster – there is a line of thinking that suggests the abortion debate could become the beginning of a blue avalanche across the Lone Star State.
"Texas voters came out in record numbers to oppose this bill every step of the way, and they will turn out in record numbers at the next election," said Heather Busby, executive director of NARAL Pro-Choice Texas, in a statement.
Latinos make up a growing share of the state population and are reliably Democratic voters, the thinking goes. Moreover, the new abortion bill, which would ban abortions after 20 weeks and make clinics meet tough new medical standards to survive, could shift a growing number of women voters to the blue column.
In short, some activists suggest the bill lays bare how the demographic and political forces that resoundingly swept President Obama to a second term in 2012 are even now knocking on the door of perhaps the nation's reddest state.
While the logic is sound, the data suggest that the idea of a "Blue Texas" is, for now, little more than wishful thinking on the part of liberals.
Changes are coming, and the rise of Latinos in Texas could put the state in play for Democrats by the middle of the next decade, according to some analyses. But three main points, in particular, are keeping Texas deep red and should continue to do so for the foreseeable future.
---